Welcome to the HashiCorp Partner Network
HPN Partners, On September 9th, 2019, we launched our 2019/20 HashiCorp Partner Network (HPN) Resell and System Integrator program benefits and requirements and new theme: "Partnering in a Cloud Operating Model".
In today's market, we are seeing Enterprise IT teams make the shift from ITIL-based gatekeeping to a model of enabling shared self-service processes for DevOps excellence. It is critical that the partner ecosystem that educates, architects, sells and implements traditional on-premise infrastructure rapidly build robust service practices that focus on cloud-based infrastructure.
For most enterprises, the goals of digital transformation efforts mean delivering new business and customer value more quickly, and at a very large scale. In order for partners to play a role in this shift from cost optimization to speed optimization, they must also work and thrive in a multi-cloud architecture and enable the deployment of on-demand services with limitless scale.
To unlock the fastest path to value of the cloud, partners must consider how to help enterprises industrialize the application delivery process across each layer of the cloud and implement the right people, processes and tools to enable the Cloud Operating Model. This new model requires core infrastructure hardware sales expertise blended with that of application platform software system integrator services expertise, resulting in a new breed of hyper-specialized partners that can excel in the cloud operating model.
To that end, the HashiCorp Partner Network (HPN) program has been re-designed to on-board, enable and reward those partners that are investing in helping Enterprise IT teams adopt this new model across infrastructure, security, networking and application delivery.
The 2019/20 program introduces new Enabled and Specialized Tiers with greater rewards for partners who invest in delivering both pre and post sales value added services and achieve certification across the HashiCorp enterprise product portfolio (Terraform, Vault, Consul and Nomad).
In addition to the new HPN program, HashiCorp is making significant channel investments for 2019/20 including the launch of a new partner training platform, channel field marketing resources, partner SE2SE training and the transition of HashiCorp enterprise business to be transacted with specialized and hyper-specialized partners, a colossal shift in HashiCorp's go-to-market strategy.
Partners have the opportunity 2x per year to increase their rewards by achieving the next level program tier requirements. Please take a moment to review this program guide to understand the portfolio of tools, benefits, training and requirements the HPN team has developed to ensure our combined success and join us in revolutionizing the huge market!
Sincerely,



Michelle Graff
HashiCorp Global Channel Chief
The Market Opportunity
The Market Opportunity Analysts say that more than $1.3T in IT spending will be directly or indirectly affected by the shift to cloud by 2022. Additionally, 28% (or $280B) of spending within key enterprise IT markets will shift to cloud by 2022 up from 19% in 2018.
Of that immense market, $80B is in the IaaS and Management Security market segments. This disruption in the IT spending market will displace many traditional infrastructure hardware and software vendors (and partners) who resist the transition to the cloud.
According to 2019 State of the Cloud report by Flexara, customers are continuing to invest in multiple cloud platforms. This includes both the public and private cloud usage. 84% of the respondents are using more than 4 cloud platforms3. Furthermore, Cloud computing platforms and applications are proliferating across enterprises today, serving as the IT infrastructure driving new digital businesses.
By providing consistent workflows to provision, secure, connect and run any infrastructure for any application, HashiCorp reduces the friction for enterprise IT organizations to transition to the cloud(s).
The HashiCorp Partner Network (HPN) Advantage
Multiple Entry Points: DevOps provisioning/Infrastructure as Code, multi-cloud management, self-service infrastructure, centralized secrets management, data encryption, service registry and discovery, service mesh and container orchestration.

NetNew Account Penetration: HashiCorp is a great wedge into accounts in which you may not have owned the legacy security or on-premise hardware but can differentiate with your transformation infrastructure as code investments in HashiCorp.

Expand Business Opportunities: Start with entry points and quickly expand across the IT organization selling the full HashiCorp stack (Terraform, Vault, Consul and Nomad) as well as expand across datacenters and applications.

Recurring Revenue Streams: HashiCorp compensates all authorized partners on annual renewals and software subscription – build and maintain account control.

Partner Led Professional Service: HashiCorp provides post sales training and online proctored certifications to obtain specializations in scoping, installing and deploying HashiCorp solutions. All opportunities require a certified HashiCorp professional services partner. Resell approved services from certified partners, as you ramp your services practices.
Program Overview
Unlike traditional on-premise infrastructure partner programs, where revenue attainment is the initial driver on financial rewards, the HashiCorp Partner Network Program and associated financial rewards are aligned to a partner's capabilities and expertise first and foremost. The HPN program serves as the framework and engagement model for partners to both resell and deliver services to our joint customers. HPN provides resellers and system integrators the ability to accelerate a partner's return on investment by jointly providing our customers with the expertise required to remove the friction for global enterprises to transition to the cloud.
Program Requirement and Tiers
The HashiCorp program is designed to accelerate partner performance and return on investment. The HPN program tier requirements are mapped to the financial rewards and incentives a partner will achieve. The greater levels of a partner's expertise and specialization across the HashiCorp portfolio the greater the financial rewards a partner will earn.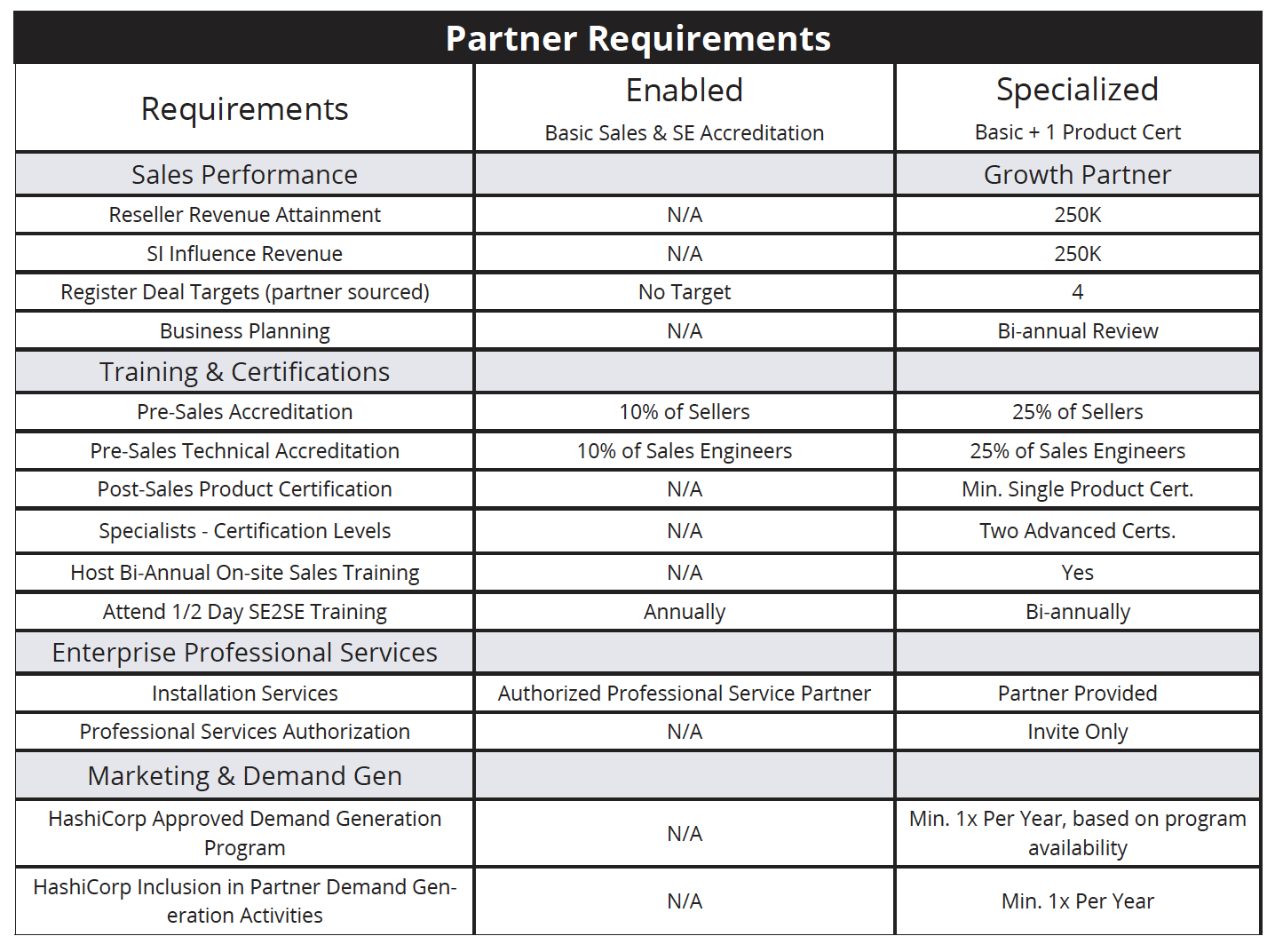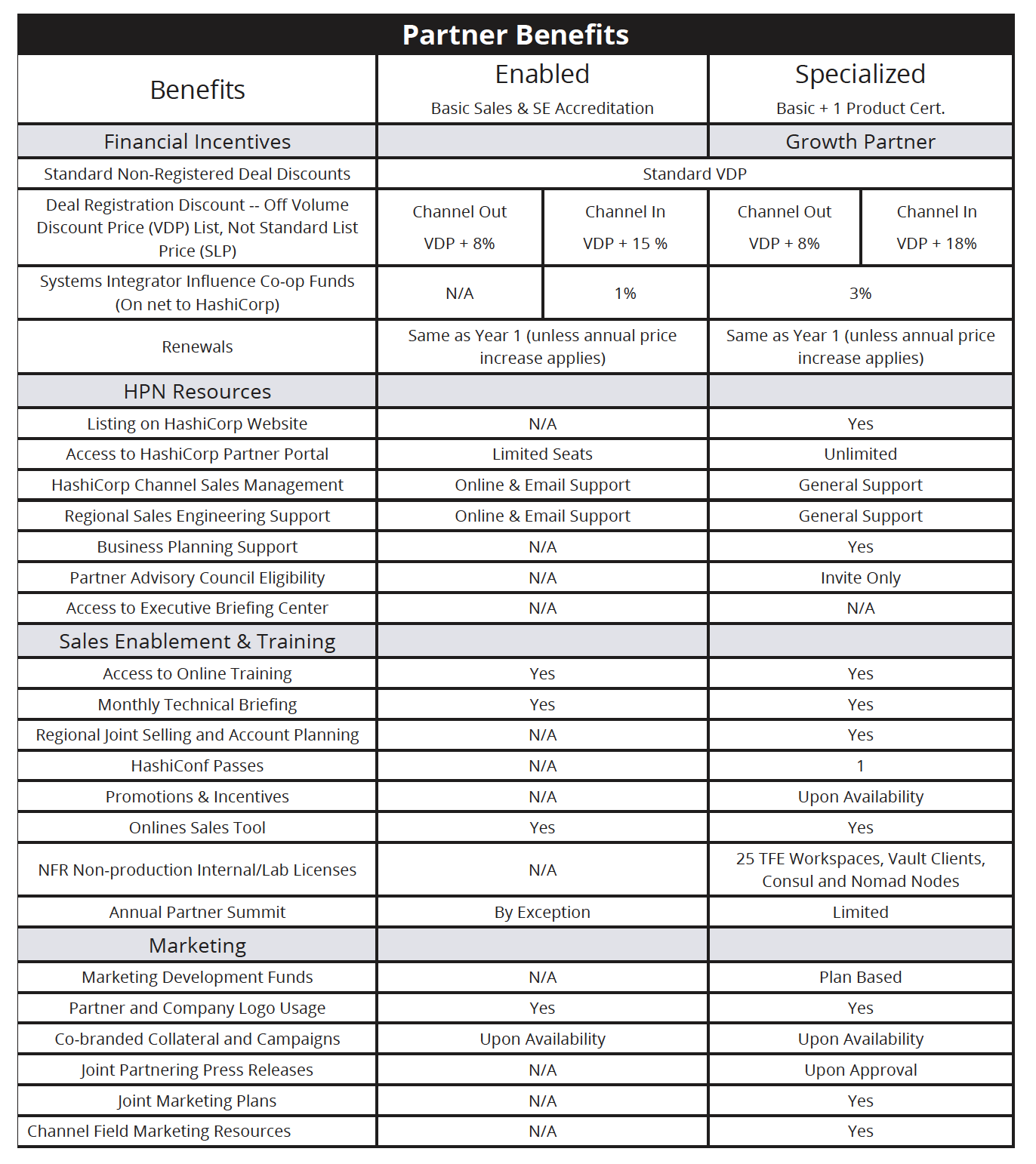 HPN Channel Investment Portfolio
Marketing Development Funds (MDF)
HashiCorp MDF program is designed to reimburse qualified partners for a portion of expenses incurred by the partner for executing specified marketing activities developed to drive demand for HashiCorp products. HashiCorp MDF is 100% discretionary and not guaranteed based on accruals or performance. SI Only partners that qualify for Co-op accrual funds will be required to follow the same spending guidelines as the HashiCorp MDF investments. See HashiCorp MDF and Co-op Guidelines document, which can be found on the HashiCorp Partner Portal.
Deal Registration
Deal registration is the cornerstone to achieving greater margins and profitability. As a HPN partner, you have the opportunity to protect your HashiCorp qualified opportunities while you are engaged in the sales process. The HPN On-line Deal Registration program allows you to submit qualified opportunities via the HPN partner portal for sales approval and price protection. Partner deal registrations are not leads and should only be submitted once all deal registration approval criteria has been met. Refer to the HPN Deal Registration Guidelines.
Relevant Promotions and Incentives
As an approved HPN partner, you have the opportunity to participate in quarterly and on-going promotions and incentives that are relevant to your sales organization's compensation model. HPN's rewards program is designed to incent your engineers and sales teams for performing specific activities that accelerate the HashiCorp sales cycle. Check the HashiCorp partner newsletter and the HPN partner portal quarterly for new and on-going partner promotions.
Training and Accreditation
Maintain your trusted advisor and specialization status with your customers by staying current on the changing cloud landscape, customer use cases, and why cloud changes everything. The HPN portal provides partners with on-line training and accreditation to help partners identify opportunities, position solutions, demonstrate ROI, handle objections, combat the competition and deliver pre and post sales professional services.
Product Certification
Achieve greater partner status and demonstrate acknowledged success to our joint customers with HashiCorp Certifications. The HashiCorp certification track identifies and tests partners' technical staff's capabilities of delivering HashiCorp Enterprise software tools in customer environments.
Partners can now take the first step towards greater financial benefits in the HPN program and recognition by earning an Associate Certificate via our remote proctored online exam offered anywhere in the world.
Additional advancement to Expert level is achieved by demonstrating customer excellence in the form of success stories and/or use cases. Find detailed information on the HashiCorp Certification program here.
The program provides individuals the opportunity to demonstrate their capabilities and communicate their credentials publicly and for organizations to qualify for specific tiers within the program. The program is based on a combination of technical proficiency and real-world deliverables.
The HashiCorp Certification program delivers the following partner benefits:
HashiCorp end-users can easily identify partner skills specific to HashiCorp
Validation from 3rd party verification of individuals' credentials specific to HashiCorp
Provides enhanced development path for partner's technical staff

Basic Program Terms and Guidelines
All HPN program benefits and requirements described in this program guide will remain valid through August 1st, 2020 or otherwise notified.
All HPN partners must have a signed HashiCorp partner agreement on file to be eligible to earn HPN program benefits.
All partners must be current and in good financial standing with HashiCorp to receive the HPN partner program benefits.
All partners with a current reseller agreement are eligible to receive the same maximum discounts on software and support described above through August 1st, 2020 or otherwise notified.
To maintain your HPN partner benefits, minimum training, marketing, revenue targets, and product certification will be required annually (or pro-rated if you are on-boarded within the year).
All partners will have the opportunity to be promoted 2x per year (February 1st and August 1st)