Announcing HashiCorp Private Terraform Enterprise on AWS, Azure, GCP, and VMware
Apr 17 2018|Kevin Fishner
We're pleased to announce HashiCorp Terraform Enterprise is now available to run as a private installation on AWS, Microsoft Azure, Google Cloud Platform, and VMware.
The installer allows users to run a private instance of Terraform Enterprise on their infrastructure provider and Linux operating system (OS) of choice. Before the release of the installer, users were only able to run Private Terraform Enterprise using a pre-baked AMI on AWS. Organizations now have the flexibility to run Terraform Enterprise on the infrastructure best suited to their needs, including AWS, Azure, GCP, and, VMware with additional targets to come. Additionally, users can provide their own customized base OS and install Private Terraform Enterprise on top of it.
» Why Private Terraform Enterprise
Terraform Enterprise focuses on increasing productivity of teams through safe, efficient, and collaborative provisioning workflows while enforcing guardrails through the use of policy as code. Terraform Enterprise became generally available in December of 2017 and was initially delivered as a SaaS offering (https://app.terraform.io/).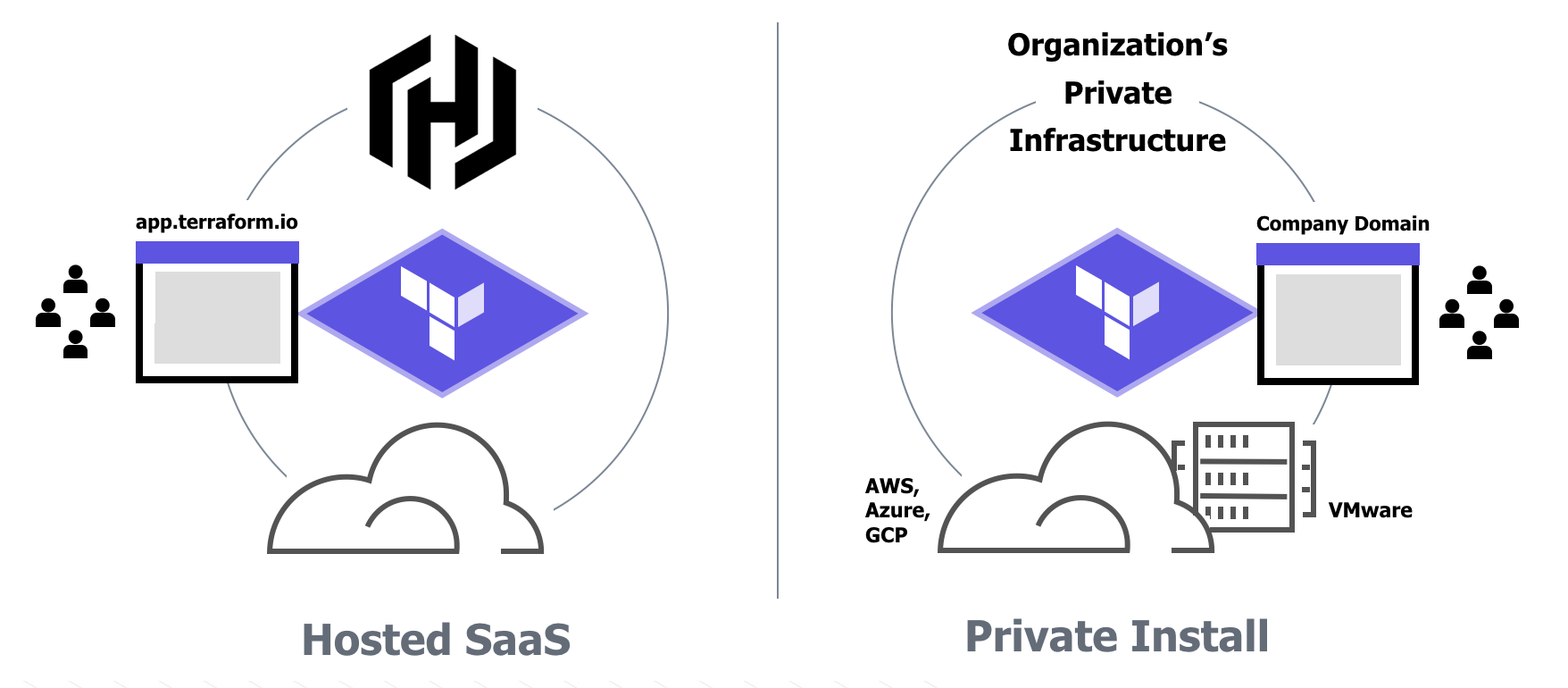 Private Terraform Enterprise helps organizations provision private and public cloud infrastructure with compliance and security requirements. These requirements include:
Manage private infrastructure: Private Terraform Enterprise allows organizations to use the same provisioning workflow for private and public cloud infrastructure.

Data sovereignty: Organizations can keep all provisioning data on-premises with the private install.

Custom application integrations: Private Terraform Enterprise integrates with on-premises software such as version control systems — BitBucket Server, GitLab, and GitHub Enterprise.

Enterprise operations: The operational performance and availability requirements for Private Terraform Enterprise are controlled by the customer.
» Conclusion
The Private Terraform Enterprise installer has been in beta for the past month with users across finance, technology, and healthcare. To learn more about Terraform Enterprise visit https://www.hashicorp.com/products/terraform.