HashiCorp's Lisa Argueta, DoD Account Manager, and Joshua Blair, Senior Security Engineer, both served in the military before joining HashiCorp. Both Joshua and Lisa are part of the HashiCorp Veterans Employee Resource Group (ERG), which seeks to forge a community of support by influencing and promoting HashiCorp policies, practices, and resources to recruit, interview, onboard, retain, and advance US veterans at the company.
In honor of Veterans Day, we asked Lisa and Joshua how being in the military impacted their journeys into the workforce and at HashiCorp.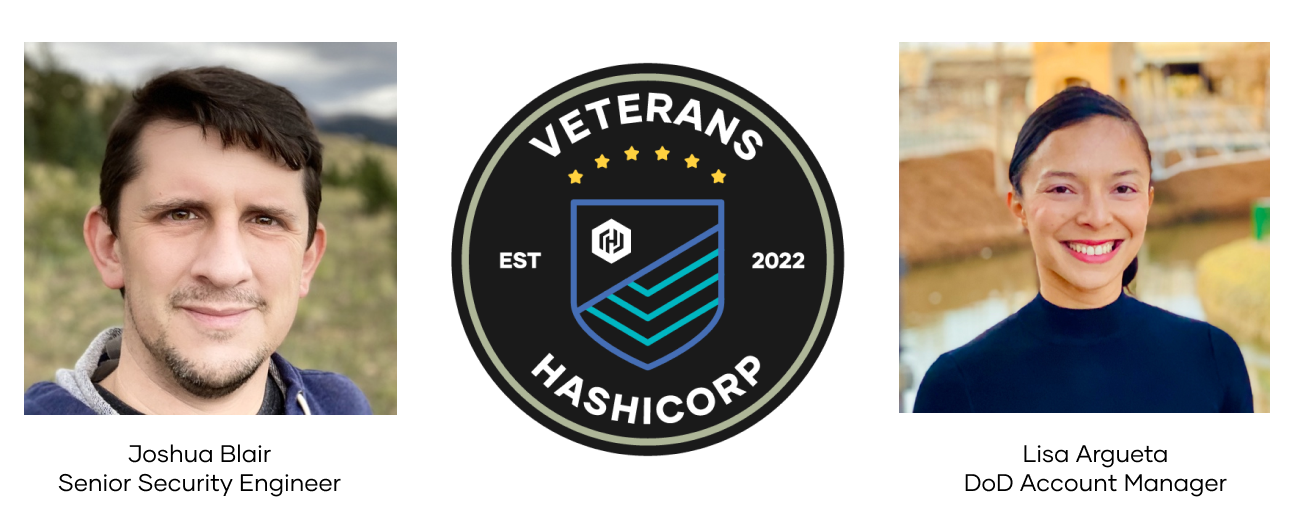 »How Has Your Military Service Shaped You?
Lisa Argueta: My experience in the military taught me that I am more capable both physically and mentally than I ever thought possible. I also learned that when I see a problem, don't complain, but instead, come armed with solutions.
Joshua Blair: Serving in the Navy gave me the opportunity to travel the world, experience different cultures, and get training in areas I never would have thought of on my own. I was continually challenged to lead teams, serve others, and lead teams serving others (a distinctly different challenge than those two aspects individually). It really puts into focus the world I live in and the things we have that others do not. Being young when I enlisted, I didn't know much about anything. My time in the military taught me how to be empathetic, to be decisive, to ask questions, to trust others, and so much more.
»How Do You Think Being a Veteran Has Impacted You in the Workforce?
Lisa: My time in the military taught me that to ensure project success I must first identify where I want to end up, not where I want to start. They call this "backward planning" in the military, and I've carried this process throughout my career in the private sector.
Joshua: I was learning — though I didn't realize it at the time — how to think of effects outside my immediate team. What other groups will this impact? Who else would be interested in what we're doing? Understanding that was instrumental in my development as an individual contributor and a leader.
»How Do You Find Community at HashiCorp?
Lisa: I find community through team collaboration and HashiCorp's awesome Employee Resource Groups.
Joshua: My team is great with setting up and having regular 1:1s as well as weekly standups. That's a great start. At some point, I searched for channels on our internal communication tool. I enjoy Formula 1, baseball, gaming, programming languages, and some open-source tooling. There are Slack channels for all of them and I've had the chance to develop relationships with people who share those interests, which has been great.
ERGs were fairly new at HashiCorp when I started and I knew I was running into some other veterans on the channels. We came together to form the Veterans ERG here at HashiCorp — guided by Colleen Fukui-Sketchley and Arielle Watkins — and we've seen many more vets come out of the woodwork and jump in with us.
»As a Vet, What Do You Enjoy Most About Working at HashiCorp?
Lisa: I truly enjoy HashiCorp's flexibility and the willingness of my team members to support and help one another. I also really appreciate the opportunities for training and career growth at the company.
Joshua: The camaraderie, the challenge of making high-quality products for my global HashiCorp team members to use, and just how much the company supports my development, both the tech and non-tech side.
»How Do You Plan to Recognize Veterans Day?
Lisa: By working to show gratitude and appreciation to my family, friends, and co-workers who have served.
Joshua: Pretty quietly, really. Sometimes a group of vets in my area will get together for a meal and share some stories (of which there are many — vets always have a story).
»How Has Being in the Veterans ERG Helped You?
Lisa: The Veterans' ERG provided me with a community of mentors and friends who share similar experiences and understand the challenges of transitioning to the corporate world. I'm honored to be part of a group that's helping other veterans through that transition.
Joshua: It's really helped me build a group of friends here who just…get it. We know and don't have to explain. And it's allowed us to advocate for more vets coming on board and begin working with external organizations that support the development of veterans' skills when they're no longer on active duty.