Today we are excited to announce the rollout of HashiCorp Developer across all of our products and tutorials. Originally introduced in June 2022, this new platform brings together a multidimensional learning experience for all HashiCorp products and related technologies. Not only does HashiCorp Developer now consolidate all product documentation under one roof, it also includes hands-on labs that run in your browser, code samples, videos, and certification prep integrated into one easy-to-use interface.
And we are just getting started!
For almost a decade, the documentation and tutorials for each HashiCorp tool lived on that product's website. Now, all HashiCorp documentation and tutorial materials share a single platform, a consistent UI, and comprehensive search across all content. We've also built a dynamic backend API to track your personalized tutorial progress.
»Unified Navigation Makes It Easier to Find What You Need
With all our documentation in one place, it is easier than ever to learn new HashiCorp skills. For example, say you're looking for a step-by-step process to integrate your Terraform Cloud instance with Kubernetes to be able to deploy new infrastructure inside, or connected to, your Kubernetes cluster. By simply navigating through the product selector, and then using the newly designed sidebar navigation, this information is easily discoverable.
And then you can jump over to a tutorial on managing resources in Kubernetes with Terraform, all on the same site, with the same experience.
»New Search Bar Helps You Get Answers Fast
To help you find the answers to your questions, we have added new features such as a powerful search bar that you can use to search across product documentation and hands-on tutorials. We think this will empower you to discover new solutions across products.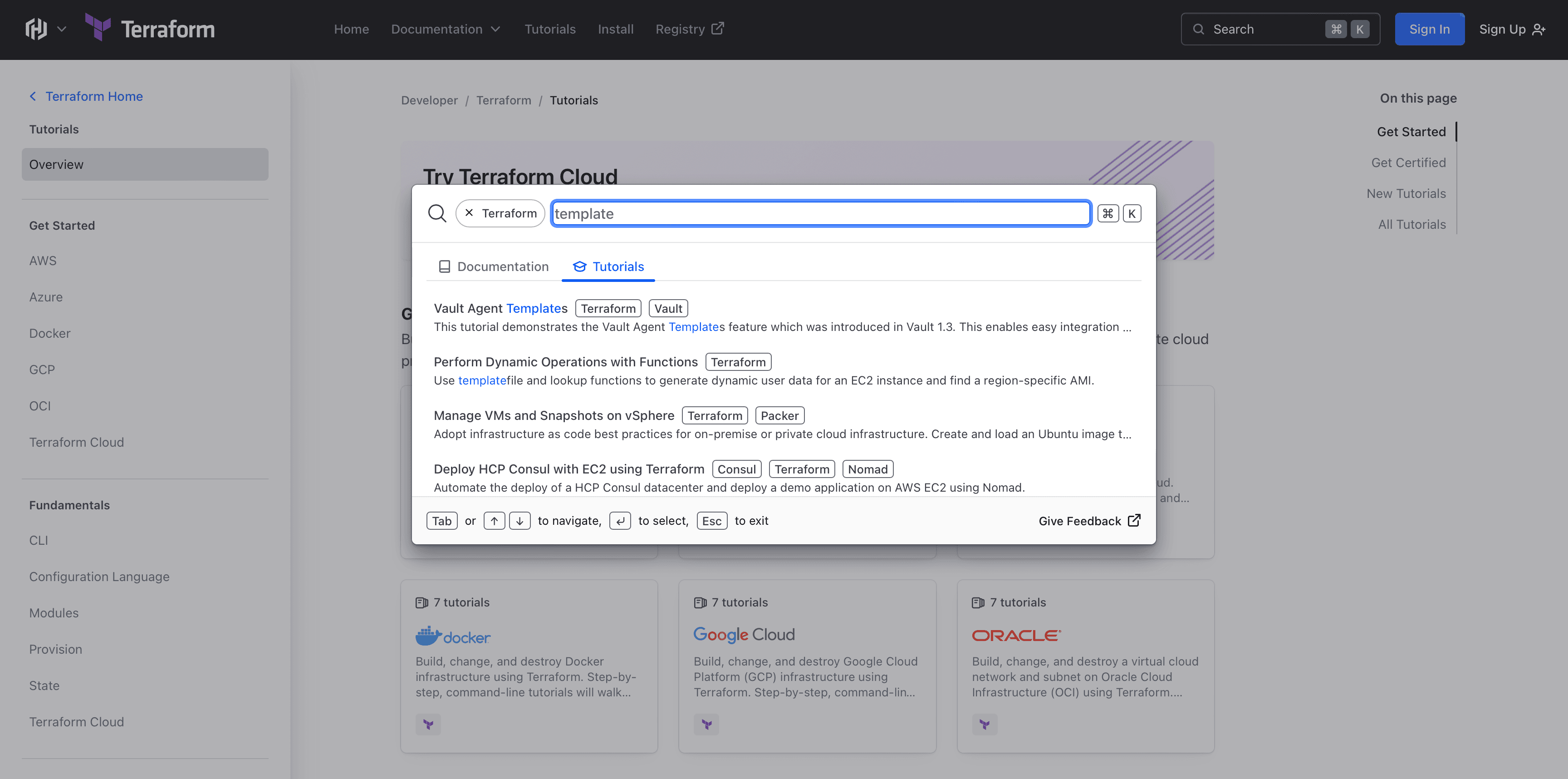 Whether you are looking to resolve an issue, learn a new skill, or discover use cases across products, HashiCorp Developer puts all product documentation and tutorials under one roof, so it's easier than ever to find the information you are looking for — and to discover functionality you may not have known about.

»Video, Labs, and Code Samples Boost Learning
We've brought over all the features and content from previous iterations of our documentation platforms. You can watch a whiteboard video about HCP Vault, learn how to run Terraform for the first time on real cloud compute resources, or copy code snippets and commands to run Consul on Kubernetes (including our demo HashiCups application).
»What's Next For HashiCorp Developer?
While the rollout process has just begun, soon HashiCorp Developer will replace the current documentation and tutorial experiences. While all HashiCorp product documentation and tutorials are already on HashiCorp Developer, over the next month we will be automatically redirecting users from the HashiCorp product.io documentation and HashiCorp Learn site to HashiCorp Developer. And all your pre-existing bookmarks from HashiCorp Learn will be redirected to HashiCorp Developer. Some Learn features like profile information, tutorial tracking, and tutorial bookmarks may be limited until the migration is complete. Completion is scheduled for the end of October.
We invite you to try HashiCorp Developer today and share your feedback so we can continue to improve the site and bring you the best experience possible.