At HashiConf in September, we announced the general availability of HashiCorp Terraform Cloud with a free offering and a limited preview of the paid offerings. We followed that up by announcing the general availability of our paid offerings in early January. Today, we're pleased to introduce a way for new Terraform Cloud users to try all paid features for free for 30 days.
Users who sign up for new accounts starting today will have access to the full free tier and the option to start a trial of the paid features that include the Team offering (features to manage teams of users who are collaborating on Terraform infrastructure as code) and the Governance offering (features for teams and organizations to create and enforce Sentinel policies to manage infrastructure).
Trials are applied at the organization level and will enable paid features for all users, teams, and workspaces that are part of the organization. Trials do not require entering any credit card information. Users can start a paid subscription of the Team or the Team & Governance plan by entering their credit card information at any time during the trial. Paid features are billed monthly, and can be cancelled at any time. For more information about the paid subscriptions, take a look at our FAQ for Terraform Cloud pricing.
»How to Access the Terraform Cloud Free Trial
To start a 30-day free trial, log into your account and select the organization you wish to upgrade from the organization selector dropdown or from the organizations page. Once you are in the organization, click "Settings" on the organization level menu and click on the "Plan & Billing" page: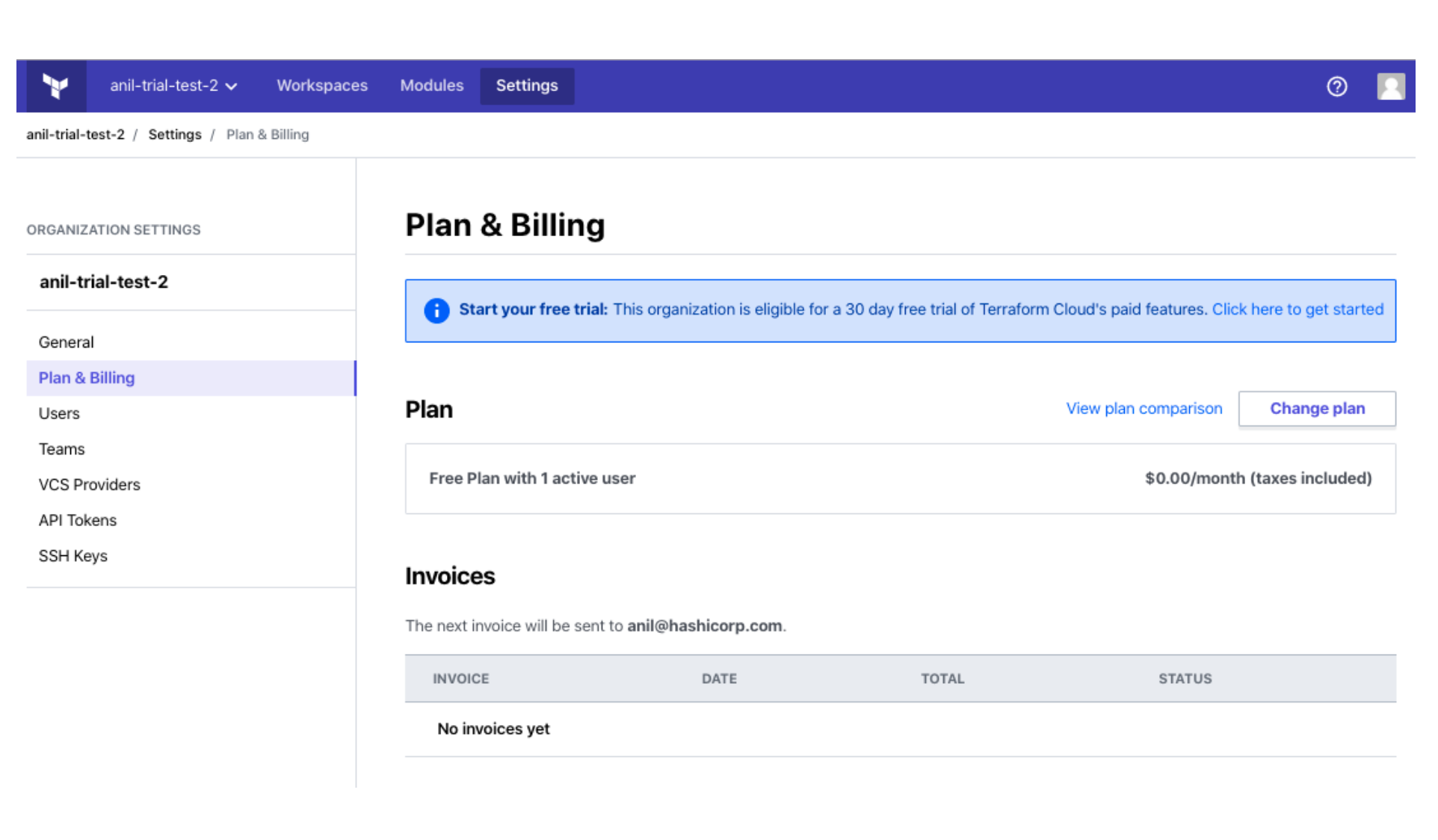 From the billing page, click the link in the blue banner to bring up the plan selection page, where you will see a new trial option alongside the various paid plans.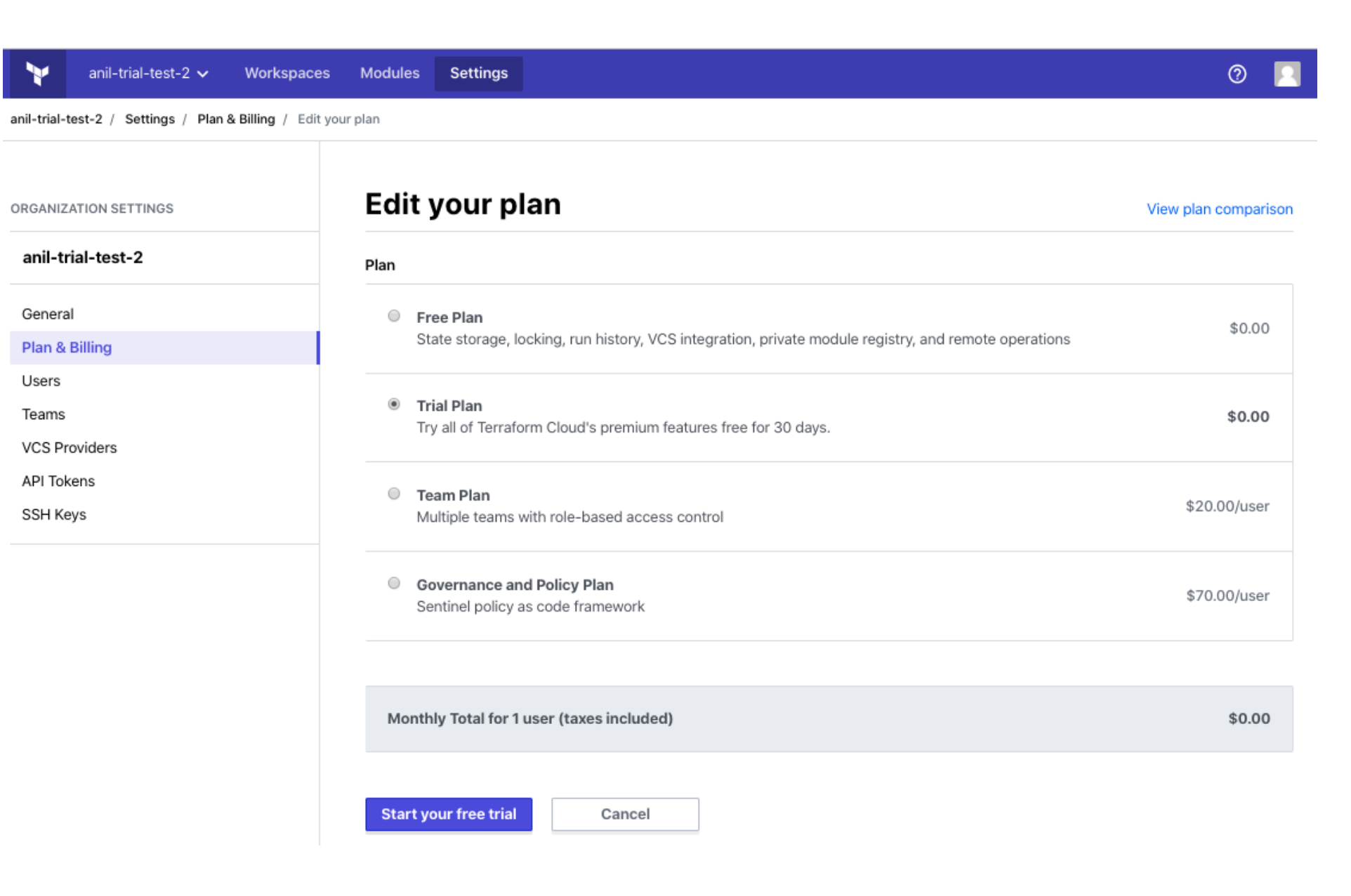 Selecting the "Trial Plan" option and clicking "Start your free trial" will immediately enable all the paid features (as reflected in the side menu) and show you the date the trial will expire.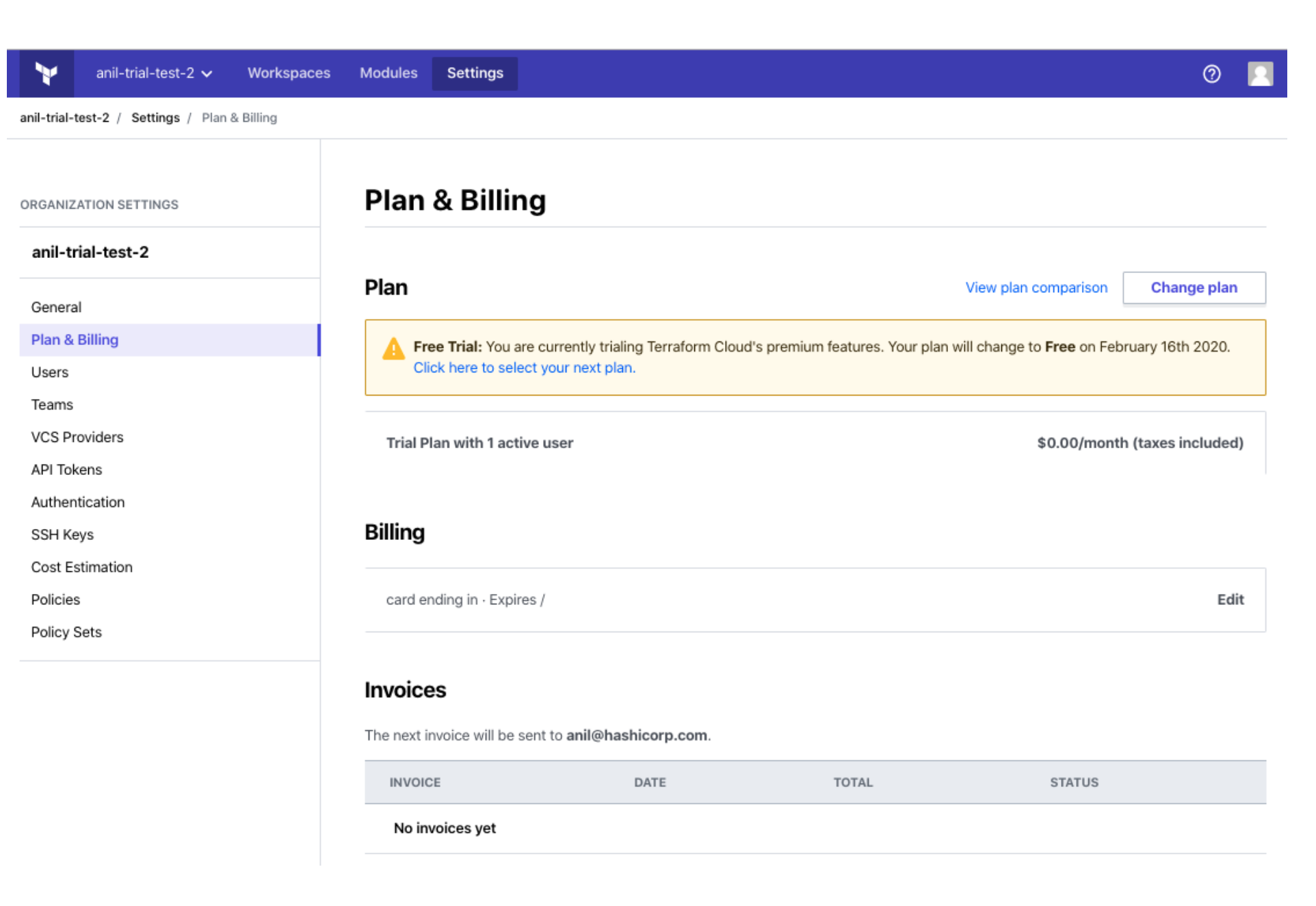 So you won't forget the end date of your trial, we will send an email to the addresses recorded in the owner's list starting two weeks before your trial ends. Upon the trial expiration date, you will be automatically downgraded to the free plan. However, any changes related to paid features (teams, policies, policy sets) you make during the trial will be reinstated when you select an upgrade to a paid plan that includes the respective features in the future.
Since the launch of Terraform Cloud Paid Features in January we have seen tremendous interest and are pleased to offer new users a way to try them out for 30 days for free. To check out the free trial or to get started with a Terraform Cloud account, visit our sign up page or to learn more about using Terraform Cloud visit the Terraform track on HashiCorp Learn.