We recently celebrated an exciting milestone at HashiCorp — surpassing 1,000 employees!
HashiCorp was founded in 2012 by Mitchell Hashimoto and Armon Dadgar. Until 2014, they were the only employees and worked out of the company's first HQ, Armon's living room.
What Does 1,000 Look Like?
To support our growth, we're continuing to build out functions and teams across the company. Most recently we brought in leaders across functions, including Developer Relations, Engagement, Inclusion, and Diversity, Design, Sales, Total Rewards, and Talent Acquisition. Our Talent and People teams, in partnership with the hiring managers and individual contributors, have been busy building out the teams for each of these functions, while also continuing to scale our existing business units.
Many of these 1,000 employees have helped us build new functions and teams, to ensure we continue to support our customers' needs, and shift our focus to where we are seeing increased demand for our products and how our customers want to consume them. This includes a HashiCorp Consul-focused sales and technical team, and several new teams of engineers, SREs, product managers, and product marketing managers to support our new HashiCorp Cloud Platform, which offers managed services across our portfolio of products.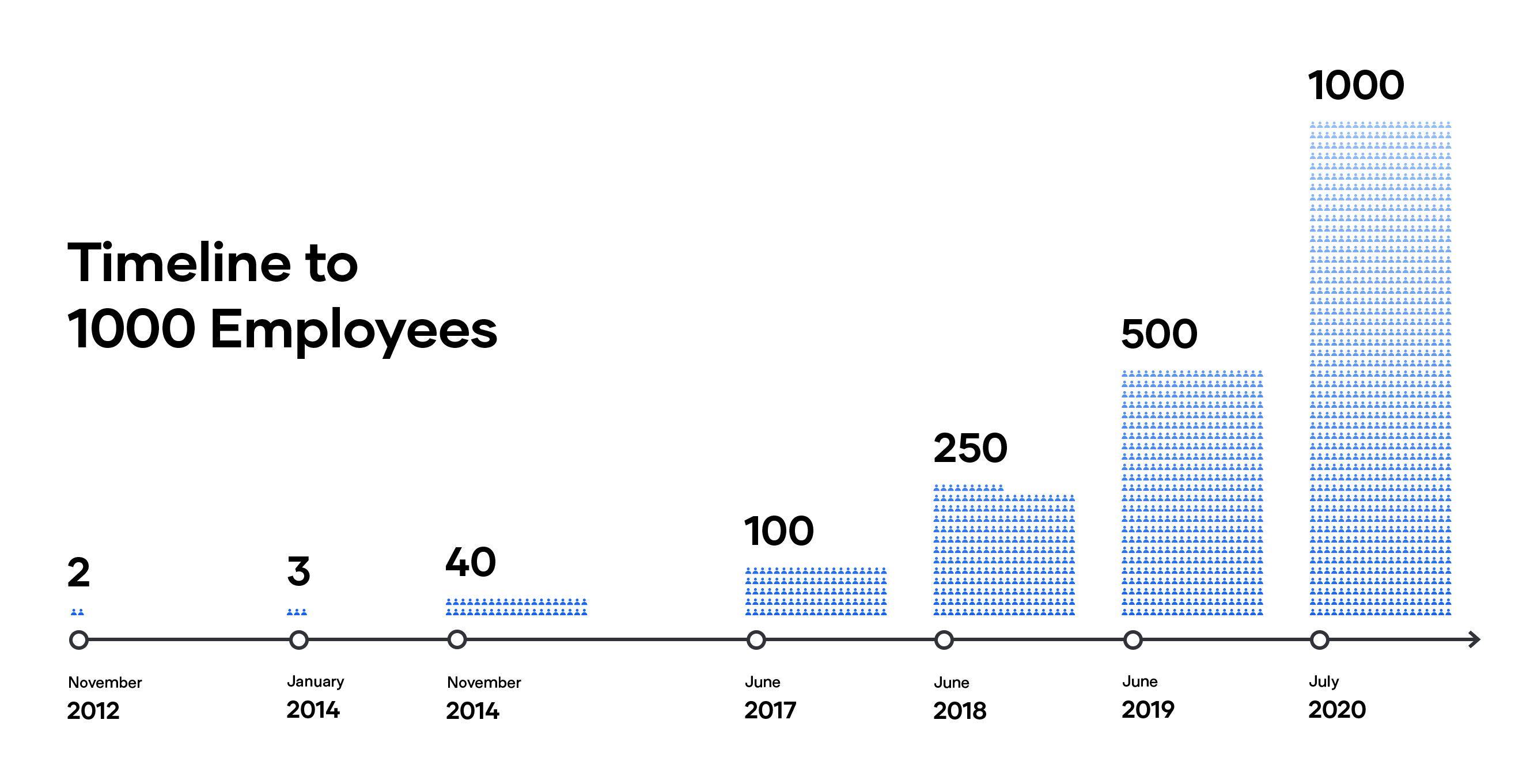 2020 has certainly provided all of us at HashiCorp (and the rest of the world) plenty of challenges, but working remotely isn't one of those. Since our founding, HashiCorp has been a remote-centric company, something that is very intertwined with our open source roots. Prior to COVID-19, 85% of our employees worked remotely, strategically distributed in 13 countries around the globe, while the remaining 15% worked out of our San Francisco headquarters. Given the pandemic, currently 100% of our employees are working remotely.
Because HashiCorp was already set up to support employees working outside of a traditional office, most of our normal work culture, processes, and day-to-day rhythms were already well-tuned for being remote, so we have been well prepared for the basics of keeping the business running.
HashiCorp co-founder and CTO, Mitchell Hashimoto speaks to HashiCorp employees at the company's annual HashiCorp Exchange (multi-day, company wide all-hands) in February 2020
In Their Own Words — Hear From our Newest Employees
To celebrate surpassing the 1,000 employee milestone at HashiCorp, we want to talk to some of our newest employees: Julien, Maria, Matt, Mirat, and Robert. We want you to hear from them, in their own words, about why they joined, what excites them about the company and its opportunity, and what they think prospective employees should know.

Why did you decide to join HashiCorp?
"I used multiple HashiCorp tools at my previous job, and was lucky enough to work in an open source-friendly company, so our team was able to make a few contributions back to several community projects. I got to speak at HashiConf last year about our experiences with HashiCorp's tooling and community, and I've had nothing but positive things to say every time someone asked about our HashiCorp tooling stack. The people I got to meet at HashiConf were genuine, kind, and thoughtful — I had excellent discussions with a few folks both about tech talk and random chit chat. In the context of a company-lead conference, this was a truly positive experience. I'm a huge fan of the engineering culture here, as well as how strongly the company leads with its principles and the Tao of HashiCorp — these are first-class citizens of the organization. Seeing my peers and managers walk the talk right of the gate is very encouraging." — Robert Paprocki, Sr. Engineer

"I decided to join HashiCorp to pursue my passion in tech and work for a company with whom I see such strong promise for a rewarding career and incredible product solutions." — Mirat Tiyab, Inside Sales Representative

"I've been using HashiCorp products since Vagrant came out and made my life easier as a developer. In previous roles, I've loved how HashiCorp embraced the Unix philosophy to make things better and simpler for users and I decided that I wanted to be a part of that journey." — Matt George, Sr. Engineer

"I knew cloud computing was blowing up because of the business need for it since the pandemic, so HashiCorp struck me as a top competitor because of its prominence in the space." — Maria Parsons, Inside Sales Representative
What are you most excited about?
"I am most excited about the people I will be working with daily. People can make or break any organization and that was by far the biggest draw for me to join the team. Each person I met throughout the interview process was incredible, and I felt the passion they had for HashiCorp, which only made me more excited as I moved throughout the process." — Maria

"The opportunity to be part of building a product that helps customers focus on their core competencies instead of managing services." — Matt

"I'm so excited to help build something special in the HashiCorp sales organization with strong leadership backing my potential." — Mirat

"To contribute to the success of the company." — Julien Furnari, Inside Sales Representative

"Being a part of an organization that I've admired from the outside. HashiCorp builds high-quality, useful, practical tooling; I'm excited to be able to contribute to a culture that focuses on delivering pragmatic, high-quality tooling that I know is valuable." — Robert
What would you say to prospective employees considering joining HashiCorp?
"To any prospective employee, I would tell them to be curious about who HashiCorp is and what we do, and to be authentic throughout the process. I've been through more than my fair share of interviews and I have never had an experience so genuine." — Maria

"After working for many different companies of all different sizes, I am extremely impressed with the intentionality that HashiCorp brings to the table around its processes and culture. It was refreshing to see this evident in the candidate experience during the interview process. I'm excited to see how this continues to manifest as HashiCorp moves forward." — Matt

"To prospective employees, if you're looking for an exciting opportunity to be adaptable, innovative, and contribute to the growth of something really special, HashiCorp is it!" — Mirat

"Do not hesitate for a second to join this rocketship and contribute to the success of HashiCorp!" — Julien

"Study the Tao of HashiCorp and the company principles. Folks here live by these tenants; this is a crucial part of the culture here. These values drive engineering and business decisions; be familiar with these and be certain they align with your own interests and value set." — Robert
Growing Beyond 1,000: What is HashiCorp Looking for?
As demand for our products and services grows, we continue to hire world-class talent to join our team. Right now, the majority of our open roles are in sales, engineering, and customer success, but we do have roles to hire across all departments and geographies. We are continuing with the practices we've been following since our founding: we look for candidates who are self-starters, who don't need or want to be in an office environment full time, and can work well in our culture, which relies a lot on writing and asynchronous communications.
We are grateful for the many talented individuals who have decided to join us here at HashiCorp. HashiCorp is growing fast, with ample opportunity for employees to create a role and do meaningful work that contributes to the company's overall goals and objectives.
To find out more about open roles at HashiCorp, please visit our Careers page.