With the impact of COVID-19, we have transformed this year's annual HashiCorp community conferences into online events: HashiConf Digital. The very first edition took place June 22 to 24, 2020.
Over 6,600 community members from 105 countries gathered online for three days to hear product announcements, take part in product workshops, share ideas, and deepen their knowledge of HashiCorp products.
If you missed it, here is a video recap:
While the digital format was new, attendees had access to high-quality technical sessions and education they would find at an in-person HashiConf, starting with a HashiConf tradition: the opening keynote with HashiCorp Co-Founders and CTOs Mitchell Hashimoto and Armon Dadgar.
Mitchell and Armon, joined by HashiCorp CEO Dave McJannet, kicked off day one by announcing the release of HashiCorp Terraform 0.13 beta, Nomad 0.12 beta, the GA release of Consul 1.8, and finally by introducing HashiCorp's new flagship cloud offering — the HashiCorp Cloud Platform.
You can view the full opening keynote here.
Over the next few weeks, we will be sharing a series of blog posts highlighting the technical sessions from our community members, customers, and HashiCorp employees, but you can already view all of the sessions on-demand on the HashiConf website.
Here are some of the other highlights from our first fully digital community conference.
»Emcees Domi and Rob
The friendly faces that welcomed attendees each day to HashiConf Digital were two of HashiCorp's newest employees: Solutions Engineer Dominique Top and Developer Advocate Rob Barnes, in one of the first big assignments of their new jobs. Their enthusiasm and energy were a driving force and played a large role in making HashiConf Digital a success.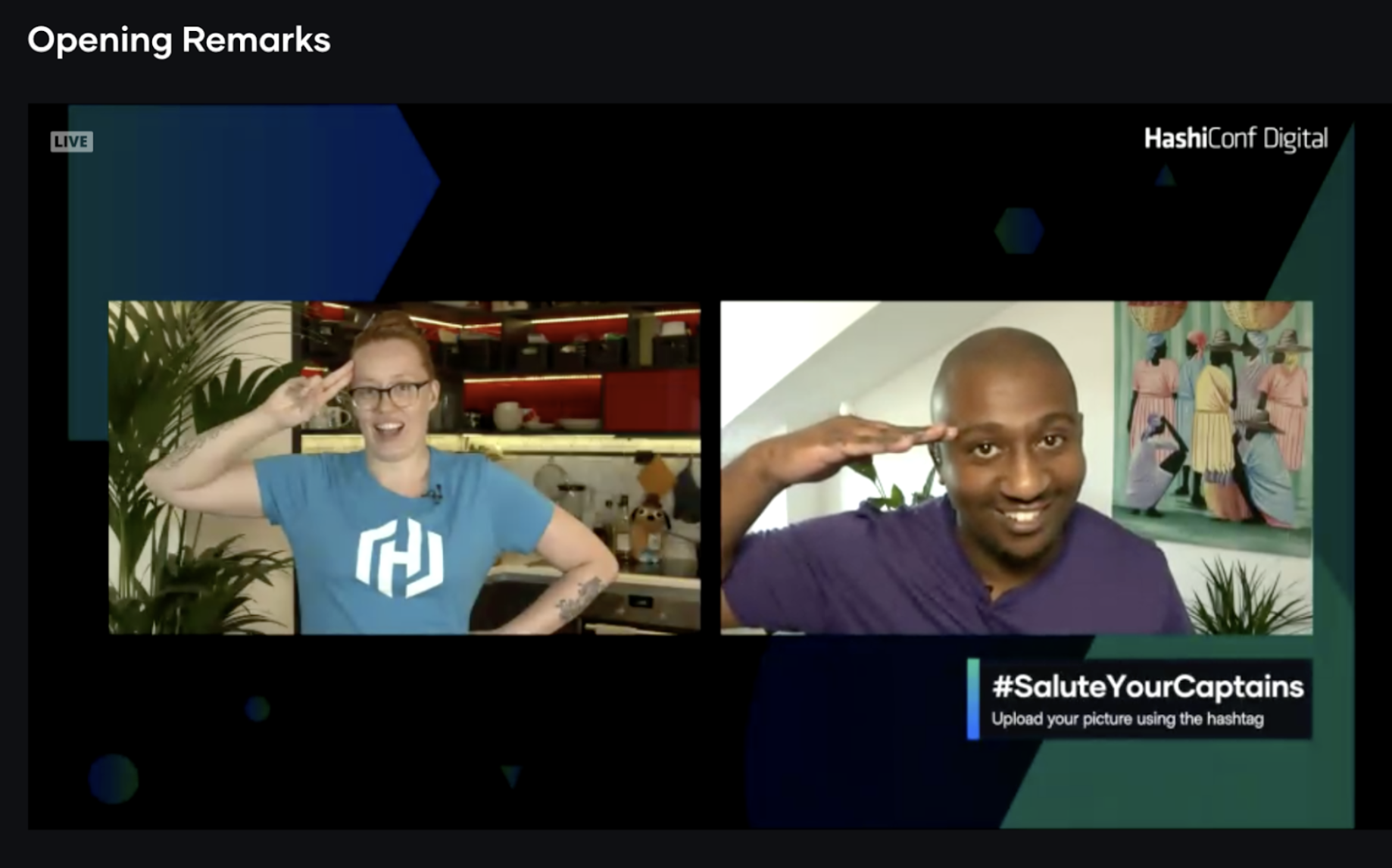 »In Conversation With Kelsey Hightower
To close day two, HashiCorp's Anubhav Mishra and Nic Jackson held a fireside chat with longtime friend of HashiCorp, Kelsey Hightower. Kelsey, now a Developer Advocate at Google, has a long career history in tech, and in the chat he shared the story of how he got to where he is today, as well as open, honest advice for those starting out.
Watch the full interview here.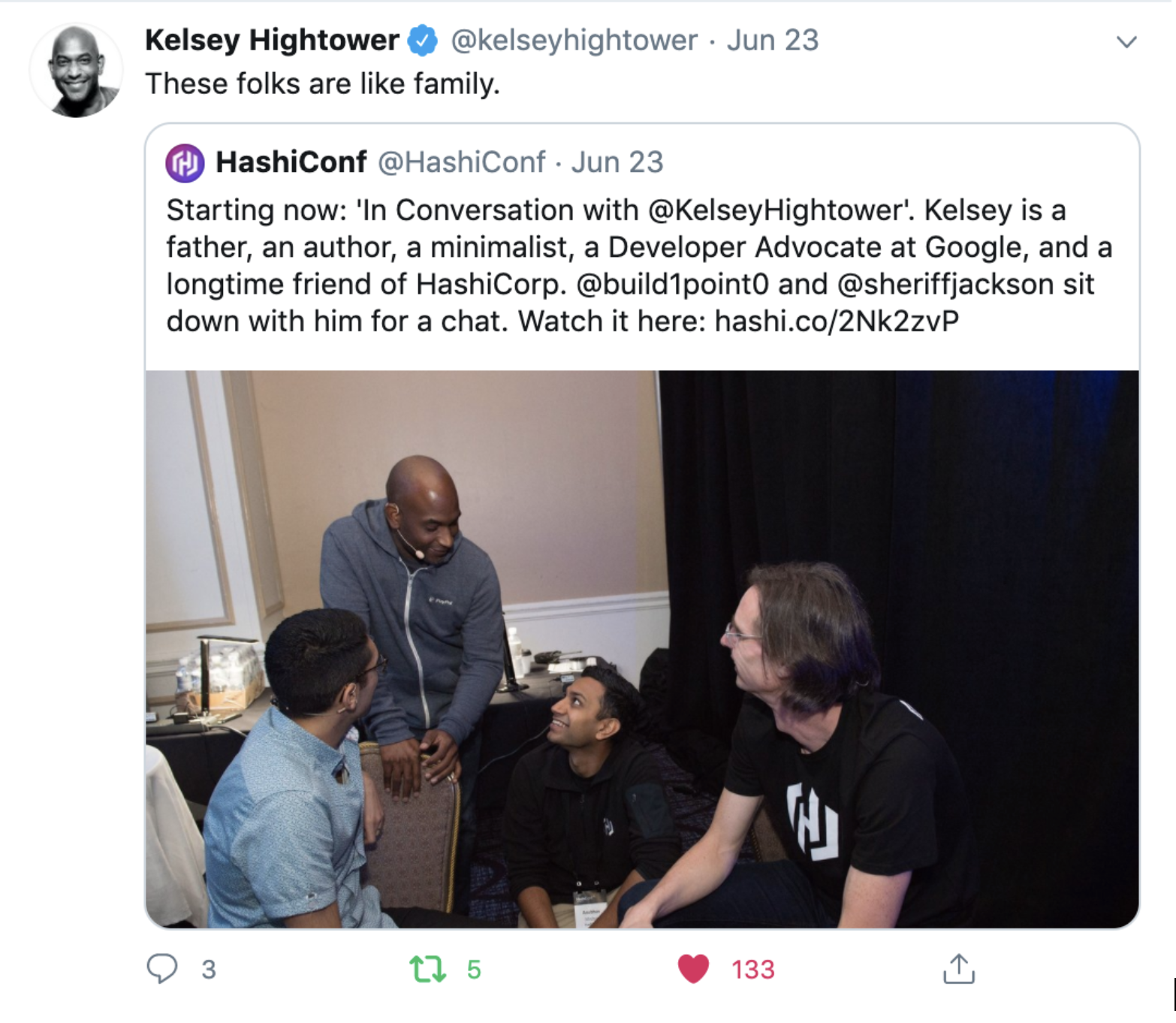 »Digital Meet-ups
At the event, digital meet-ups served as the online alternative to meeting other attendees face-to-face over coffee in the HashiCafe. The digital meet-ups provided a chance for people to meet other attendees online, have discussions around their own projects, share ideas, or just say hi.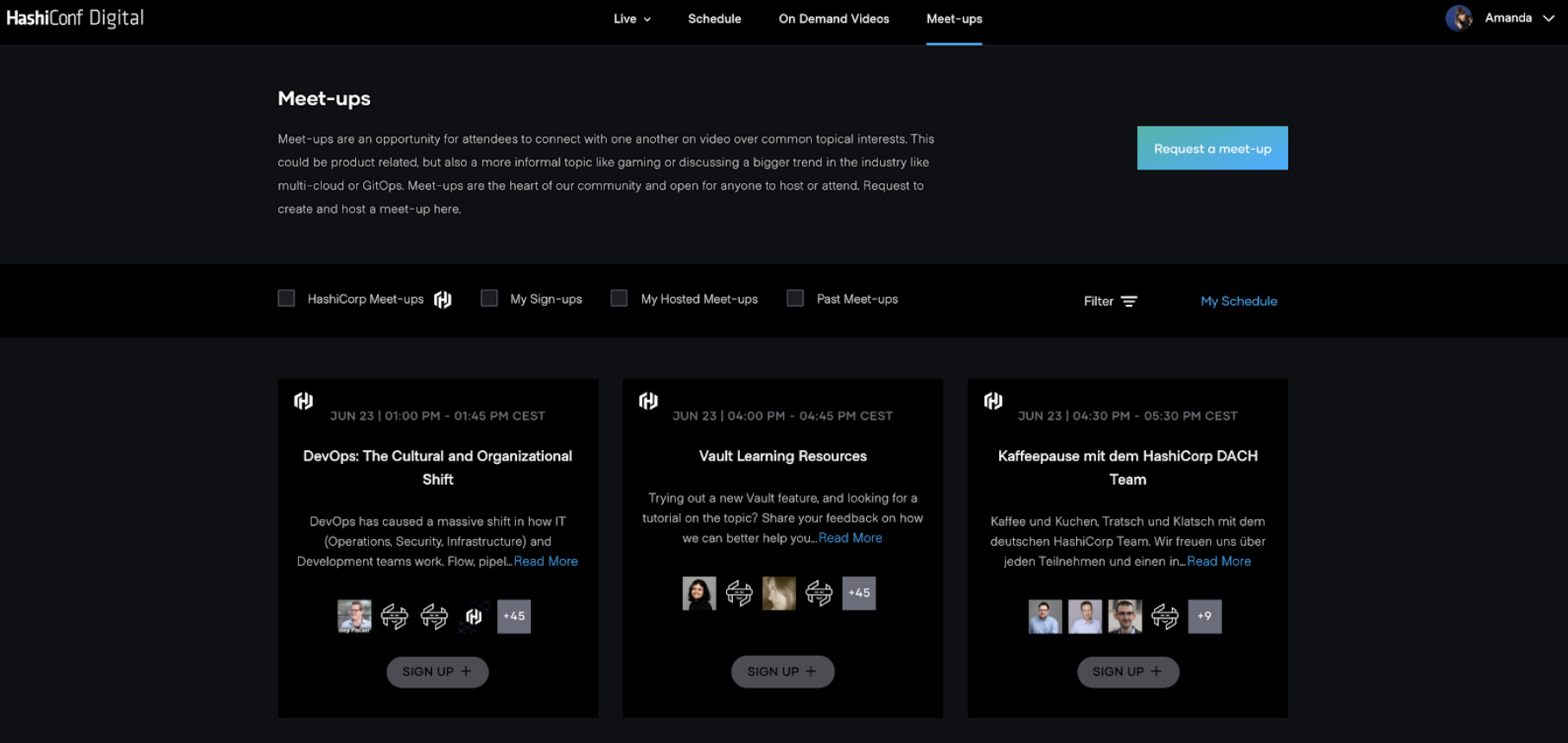 »Digital Swag Bag
This year, attendees downloaded a HashiConf Digital swag bag, which included virtual Zoom backgrounds, custom HashiCorp emojis, wallpapers for laptops and phones, and a Spotify playlist to capture the HashiConf vibe.

»Music Intermissions
Between sessions, two DJs presented special music intermissions. One was HashiCorp's own Brandon Ferguson from the Terraform Enterprise team, who shared several sets on his home modular set-up (shown below).
»A Custom Digital Platform
The custom-built HashiConf Digital platform also included Q&A cards so attendees could ask speakers questions during a session, live chat, and on-demand content available immediately after a session.
»What's Next?
On behalf of the entire HashiCorp team, thank you to everyone who helped make our first HashiConf Digital a successful event.
We are already looking ahead to the next edition of HashiConf Digital which will take place October 12-15, 2020. The October edition will take place during daytime hours in the North American West Coast (PDT), and consist of two days of workshops followed by two days of technical sessions in two tracks.
Registration is open now and free for all. We hope you can join us.